My First under Water shoot!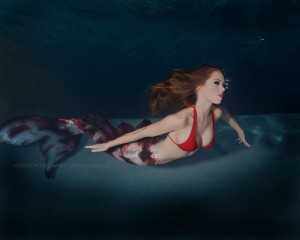 Photographer: Chris Crumley
Model: Rachel Faulkner
This shoot came out really great.Just what i expected! From what Rachel mentioned" it was not as glamorous and easy as it looks" .
It was another level of modeling. But as you can see the photos dont lie. Mr.Crumley never fails to amaze me.Another Outstanding Photo!
I also heard after the shoot that the only thing  that was about to come off was the Lashes. But other than that everything from foundation to eyeshadow stayed put. I'am very satisfied with my work!
As an artist I'am responsible to deliver what my clients request me to do.  I'd like to give them the best results as possible and so the night before the shoot. I filled out my tub,put some "Mac Face and body foundation" which by the way famous for being used on the set of "BAYWATCH". I also used all Waterproof eyeshadow and mascara. Prolong wear Lip colors etch.
I bought a new waterproof eye lash glue which was really hard to find lately and a sponge that cost me $7 a piece. Its expensive! and i experimented. Got in the tub and soak myself from head to toe,up and down whatever position you can think of. I did to make sure the makeup stays put.  It is good to come prepared for this type of shoot. I was under pressure but having the correct tools helps your work easy and manageable.
Hope you guys like it!!!!!