Murfreesboro, TN: Fashion show "Lead Makeup Artist" Dress To Give Fashion Affair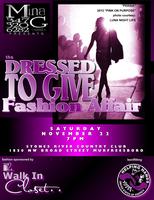 Tickets are now available! The Annual fashion show for "Helping Hands World Wide services"
For those who are not familiar with this Great organization. Helping Hands started in 1984 by Sita Helms. She has dedicated her entire life preventing HUNGER and MALNUTRITION for seniors who is lacking of financial assistance and medical attention.
They then expanded in "Military Families". which we all know some are living below the poverty threshold.
"Mobile Food Pantry" is another way for them to reach out to those families that are affected by poverty. They currently have three refrigerated delivery trucks able to carry fresh and healthy foods directly.
https://www.eventbrite.com/e/the-dressed-to-give-fashion-affair-sponsored-by-the-walk-in-closet-benefiting-helping-hands-tickets-14106636329